National Folk Dance Committee
The National Folk Dance Campaign Is On Hold Until
We Can Get Support To Submit A New Bill
The square dance activity has worked for many years toward the goal of getting square dancing recognized as the National Folk Dance. There are currently 31 states that have designated square dancing as their State Folk Dance. The passage of a bill would give square dancing and its related activities more visibility and have a positive effect on recruiting new dancers.
For Information about the National Folk Dance Campaign, Contact The USDA Regional Vice Presidents:
Vice President Western Region
Alaska, Arizona, California, Colorado, Hawaii, Idaho, Montana, Nevada, New Mexico, Oregon, Utah, Washington, Wyoming
Vice President Eastern Region
Connecticut, Delaware, District of Columbia, Maine, Maryland, Massachusetts, New Hampshire, New Jersey, New York, Pennsylvania, Rhode Island, Vermont, Virginia

Gilbert & Sharon Leon
424 Seaport Trail
Carrolton, Virginia VA 23314-3361
Home Phone: 757.745.7182
Sharon Cell: 909.754.1938
E-Mail: usda.Eastern.Region.VP@usda.org
Vice President Central Region
Alabama, Florida, Georgia, Indiana, Kentucky, Michigan, Mississippi, North Carolina, Ohio, South Carolina, Tennessee, West Virginia
Ed & Lynda Willis
P.O. Box 7524
Wilmington, North Carolina 28406-7524
910.616.3639
E-Mail: usda.Central.Region.VP@usda.org
Vice President Plains Region
Arkansas, Illinois, Iowa, Kansas, Louisiana, Minnesota, Missouri, Nebraska, North Dakota, Oklahoma, South Dakota, Texas, Wisconsin

Mark & Bina Krebsbach
3301 Nebraska Drive #1
Bismarck, North DakotaI 58503-1639
M 701.320.9079 B 701.320.-5182
E-Mail: usda.Plains.Region.VP@usda.org
For More Information About USDA, E-Mail at: usda@usda.org
States That Have Adopted Square Dance As Their State Fold Dance As Of January, 2013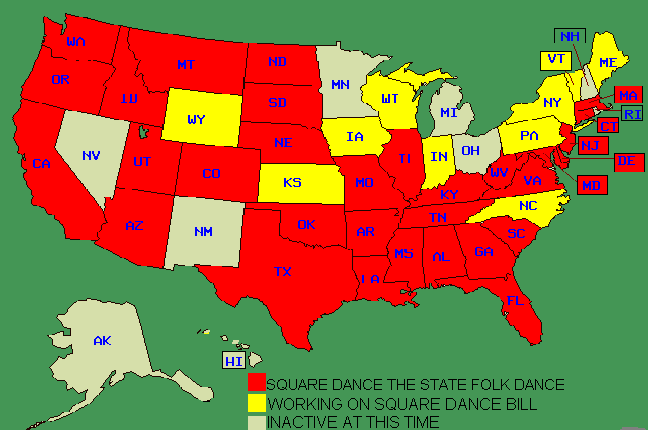 (01)KY, (02)OR, (03)WA, (04)TN, (05)AL, (06)NJ, (07)FL, (08)WV, (09)CA, (10)OK, (11)ID, (12)MA, (13)AZ, (14)IL, (15)AR, (16)VA, (17)MT, (18)TX, (19)CO, (20)DE, (21)SC, (22)UT, (23)MD, (24)MS, (25)ND, (26)SD, (27)MO, (28)CT, (29)GA, (30)NE, (31)LA.