NATIONAL FOLK DANCE COMMITTEE
THE NATIONAL FOLK DANCE CAMPAIGN IS ON HOLD UNTIL
WE CAN GET SUPPORT TO SUBMIT A NEW BILL
The square dance activity has worked for many years toward the goal of getting square dancing recognized as the National Folk Dance. There are currently 31 states that have designated square dancing as their State Folk Dance. The passage of a bill would give square dancing and its related activities more visibility and have a positive effect on recruiting new dancers.
This page updated on 07/03/15
For Information about the National Folk Dance Campaign, Contact The USDA Regional Vice Presidents:


VICE PRESIDENT WESTERN REGION

Alaska, Arizona, California, Colorado, Hawaii, Idaho, Montana, Nevada, New Mexico, Oregon, Utah, Washington, Wyoming


LPAUL & SALLY SCHMIDT
4822 HURON AVE
SAN DIEGO, CA 92117
(619) 222-0445
or by e-mail at: usda.western.region.vp@usda.org
VICE PRESIDENT EASTERN REGION

Connecticut, Delaware, District of Columbia, Maine, Maryland, Massachusetts, New Hampshire, New Jersey, New York, Pennsylvania, Rhode Island, Vermont, Virginia


LISA BREAULT
10 CROSSING DR. APT. 103
CUMBERLAND, RI 02864
or by e-mail at: usda.eastern.region.vp@usda.org

VICE PRESIDENT CENTRAL REGION

Alabama, Florida, Georgia, Indiana, Kentucky, Michigan, Mississippi, North Carolina, Ohio, South Carolina, Tennessee, West Virginia

ED & LYNDA WILLIS
P.O. BOX 7524
WILMINGTON, NC 28406
(910) 616-3639
or by e-mail at: usda.central.region.vp@usda.org

VICE PRESIDENT PLAINS REGION

Arkansas, Illinois, Iowa, Kansas, Louisiana, Minnesota, Missouri, Nebraska, North Dakota, Oklahoma, South Dakota, Texas, Wisconsin


FLOYD & JUDY ENGELHARDT
142 WOODCREST TERR
Le SUEUR, MN 65058
H: (507) 665-2443 J: (507) 340-4944
or by e-mail at: usda.plains.region.vp@usda.org
FOR MORE INFORMATION ABOUT USDA, e-mail at:

usda@usda.org


STATES THAT HAVE ADOPTED SQUARE DANCE AS THEIR STATE FOLK DANCE
AS OF JANUARY, 2013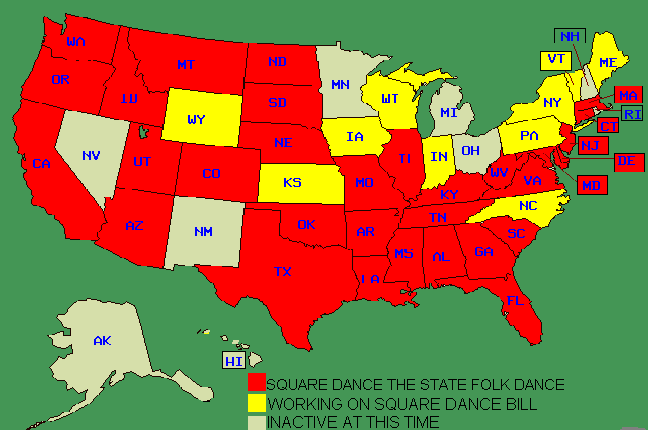 (01)KY, (02)OR, (03)WA, (04)TN, (05)AL, (06)NJ, (07)FL, (08)WV, (09)CA, (10)OK, (11)ID, (12)MA, (13)AZ, (14)IL, (15)AR, (16)VA, (17)MT, (18)TX, (19)CO, (20)DE, (21)SC, (22)UT, (23)MD, (24)MS, (25)ND, (26)SD, (27)MO, (28)CT, (29)GA, (30)NE, (31)LA.
---
Contact Information
Electronic mail

General Information: usda@usda.org
Webmaster: webmaster@usda.org